Like any normal superfan, you've often thought about how much fun an Office themed party might be. An IT IS YOUR BIRTHDAY. sign is a given, along with options for costumes, trivia games and maybe even a round of Flonkerton. But what, you may wonder, should be served for refreshments?
Our Party Planning Committee guide
to The Office Menu is
c
omplete with beverages, appetizers, finger sandwiches, entrees, healthier options, desserts, larger party options and catering suggestions all inspired by the show
(along with a few recipes) to help you plan your next Office-themed event.
Alcoholic Beverages
"Second Drink" Margaritas (From "The Dundies")
2 oz Tequila, 1 oz Lime juice, 1 oz Cointreau
served over lots and lots of ice.
Scotch & Splenda (From "TwoWeeks")
Orange "Vodjuiceka" (From "Moroccan Christmas")
That is vodka and I mixed it with orange juice
Can't believe no one's thought of that.
Snorkel Shots (from "Booze Cruise")
One part booze, one part snorkel.
"Secret" Gin & Tonics (From "Valentine's Day")
1 part Gin, 3 parts tonic, slice of lime
Tastefully served in a plastic cup with lid and straw.
"A One of Everything" (From "Moroccan Christmas")
Equal parts: Scotch, Absinthe, Rum,
Gin, Vermouth, Triple Sec,
and two packs of Splenda
St Pauli Girl Beer (From "Dinner Party")
You're not prone to seizures, right?
Non-Alcoholic Drinks:
Peach Iced Tea (From "The Secret")
Lemoñadé (From "The Return")
Coke (From "Drug Testing")
The rules of jinx are unflinchingly rigid.
Appetizers:
Soft Pretzels (From "Initiation")
With "The Works" if you're up for a sugar crash.
Herr's Chips (From "Grief Counseling")
You may have to hunt them down.
Bagels cut into Cs with fixins (From "New Boss")
Remember the tray of Schmear, Lox and Tomato slices.
Finger Sandwiches:
"Big Tuna" Salad Sandwiches (From "Gay Witch Hunt")
Bologna, Tomato and Ketchup Mini-Hoagies (From "Michael's Birthday")
Michael's Favorite
Yuk
Made with extra JAM
Entrees:
Steaks with Red Wine "dip" (From "Dinner Party")
It helps if you have soft teeth.
Make Your Own Pizza Bar (From "Viewing Party")
Just don't make it harder than it has to be.
"Well Done" Cheesy Pitas (From "The Fire")
If they look like this, or the Fire Department comes,
you might have taken "well done" a little too seriously.
Kevin's Chili (From "Casual Friday")
Mixed Berry Yogurt (From "Pilot")
Caprese salad (From "Frame Toby")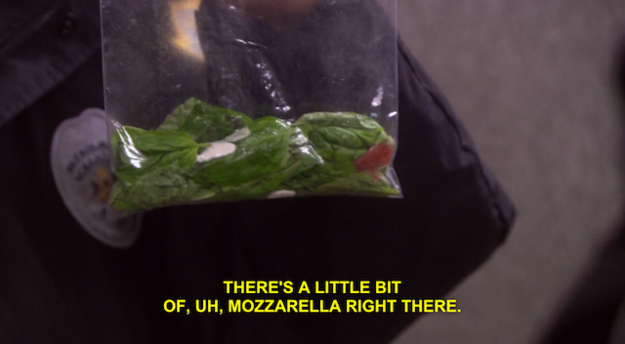 Just don't buy it from a guy behind the warehouse
Bacon cooked on a Foreman Grill (From "The Injury")
Watch your step!

Beet salad (From "Dinner Party")

Mung Beans (From "Conflict Resolution")
Very nutritious, but they smell like death.
Sausage Egg and Cheese sandwich, no bun. (From "Office Olympics")
Gotta watch those carbs
Watermelon with a butter-coated rind (From "Baby Shower")
Newborns are slippery
Jell-o, with Office supplies (From "Pilot")
A stapler, a World's Best Boss Mug, or even a calculator.
Angela's Famous Brownies (From "Valentine's Day")
M&Ms (From "Office Olympics")
Both a food and an activity.
Go for gold by seeing how many you can fit in your mouth.
That's what she said.
Ice Cream Sandwiches (From "Health Care")
Tastefully served in plastic grocery bags
Pie (From "Work Bus")
Large party options:
800 Hot Dogs, and 1 turkey burger (From "Beach Games")
69 Cups of Noodles (From "Michael's Birthday")
Crass? Maybe, but it's Kevin's favorite number and his favorite lunch

Catering Suggestions:
Stir-fry from Benihana/Asian Hooters (From "Benihana Christmas")
Just don't mark the waitress's arm, it's bad form.

Chicken Breast from Hooters (From "The Secret")
Hold the chicken.
Babyback Ribs from Chilis (From "The Client")
Also have an Awesome Blossom, extra awesome.

Pizza (From "Launch Party")
But it must come from Alfredo's Pizza Cafe, which is far
superior to Pizza By Alfredo in both taste and ingredients